Characteristics of Uttarabhadra / Uthirattathi
Uthirattathi or Uttarabhadrapada is ruled by Ahir Budhnya, the serpent of the depths of the Atmosphere. It is known as the "Warrior Star". This nakshatra spans in Meena. Uttarabhadrapada grants growth and prosperity in a broad way, benefiting the entire world.
Uttarabhadra / Uthirattathi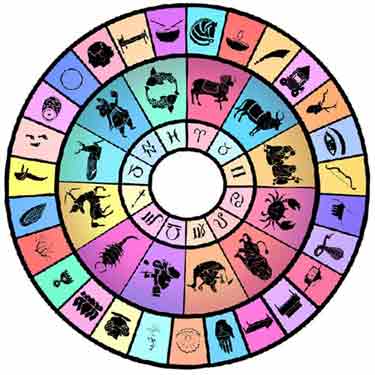 Uttarabhadra Nakshatra
Location: 3.20 Pisces to 16.40 Pisces
Ruler: Saturn
Deity: Ahirbudhnya (Gives the desire to examine things at depth and explore the kundalini energy)
Symbol: Water-Snake, Two back legs of the funeral cot
Animal: Female Cow
Lucky color: Purple
Ruling Deity of Saturn: Hanuman
Gender: Male
Gana: Manushya
Guna: Tamasic

Uttarabhadra Nakshatra characteristics: They are happy people, eloquent speakers, virtuous by nature and thus are able to conquer their enemies.

Their personality is magnetic and attractive. They always spot a smile on their face. This smile can impress those who come in contact with them. They are knowledgeable, wise and sensible. There is no change in their behavior for anyone as they treat everyone equally. They don't like to give pain to anyone and they cannot see anyone in trouble. Their anger will always be controlled; but whenever they get angry, it is for a very short span of time. They are quite soft and clean at heart. They may even sacrifice their life for those who love them with heart. Their voice is sweet and they are great speakers. They will win over their enemies.
One of their qualities is that they may get expertise in various things at one time. Even if they don't get much education, their knowledge equals to the one who is qualified. They have interest in fine arts and are able to write various books and articles. Due to their extraordinary abilities and efficiency, they may get recognition in almost all the fields. Laziness has got no significance in their life. When they decide to do something, they just do it. They don't get upset due to any failure. Believing in present and the situation, they don't dream what is not possible for them to achieve. Character-wise they are quite strong and don't get attracted toward the subjects of lust. They stay firm on their words and do what they say. Feeling of mercy is filled in them and whenever a weak person comes to them, they are ready to help.
They have a deep faith in religion and stay associated with religious works as well. Be it job or business, they will be successful in both. The reason of their success is their hard working nature. With their hard work, they will touch the heights of success. They have a deep interest in science, philosophy and mythology. In society, they are known as scholars. While being associated with social organizations, they like to do it alone than as an association. Their intentions are sacrificial and they believe in giving donations. They get a lot of respect and honor in the society due to their personality. Their adulthood will be full of happiness and bliss.

Uttarabhadra Nakshatra Male, Female characteristics: The males of this nakshatra don't discriminate between the high/low social standing of a person since they have a pure heart. They are learned individuals who possess great wisdom and are also great orators. They are self-educated and prefer getting involved in fine arts.

Females are known to bring wealth in their respective families and thus are referred to as "Lakshmi". They respect their elders, are flexible enough to adapt to circumstances, and are known to be most popular in their professional careers.
Nakshatra Characteristics Pages