Vishwabrahmana Gotras or Viswakarma Gotras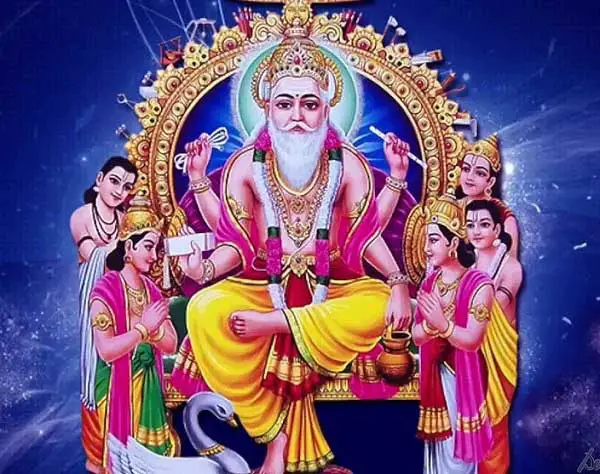 Vishwakarma is believed to be the lord of architecture and mechanics in Hindu mythology. Lord Vishwakarma is the first architect and engineer of the world and he laid the founding stone of the universe. He is credited with being the chief architect and builder of Lanka, Dwarka and Yampuri. Visvakarma's five sons are Manu, Maya, Thwashta, Shilpi and Visvajna (Devagya). The sons are the forbearers of five gotras (clans) of Vedic craftsmen who are the Blacksmiths, Carpenters, Bell metal workers (metal casters), Stonemasons and Goldsmiths.
Visvakarma's eldest son was Manu, who married Kanchna, the daughter of sage Angira. The second son was Maya, who married Soumya, the daughter of Parasar Rishi. The third son was Thwashta, who married sage Kaushik's daughter, Jayanti. The fourth son, Shilpi, was married Karuna, daughter of Sage Bhrigu. The youngest son, Devagya (Visvajna) married the Sage Jaimini's daughter, Chandrika.
Each of the sons followed in the footsteps of their supernatural father, each becoming an illustrious craftsman in their own right. Manu was an Ironsmith, Maya a Wood craftsman, and Thwashta a metalsmith who worked with Brass, Vopper and alloys. Silpi was a stone carver, and his name is associated with the craftsman's code, Shipla-sastra. Visvajna, the youngest son, became a great jeweler, working with Gold and Silver.
Visvakarma also has two daughters: Sanjana, who married Lord Surya, and Saranya, who married Vaivasvat Manu.
Sons and daughters of Viswakarma
Sons
Manu
Maya
Thwashta
Daivagna (Shilpi)
Visvajna
Daughters
Sanjana
Saranya
Vishwabrahmana or Viswakarma Gotras. These are the main gothras (Pancha gothras)
Manu, gothra is "Sanaga brahmarshi"
Maya, gothra is "Sanaathana brahmarshi"
Thwashta, gothra is "AhaBhounasa brahmarshi"
Daivagna (Shilpi), gothra is "Prathnasa brahmarshi"
Viswagna, gothra is "Suparnasa brahmarshi"
Sanaga brahmarshi has 5 upagothras
"Upasanaga brahmarshi",
"Vibhraja brahmarshi",
"Kasyapa brahmarshi",
"Manuviswakarma brahmarshi",
"Viswathmaka brahmarshi".
Sanathana brahmarshi has 5 upagothras
"Upa sanaathana brahmarshi",
"Vaamadeva brahmarshi",
"Viswa chakshu brahmarshi",
"Prathi thaksha brahmarshi",
"Sunandha brahmarshi".
Ahabhounasa brahmarshi has 5 upagothras
"Upa bhounasa brahmarshi",
"Bhadradattha brahmarshi",
"Khaandava brahmarshi",
"Nirvikaara brahmarshi",
"Srimukha brahmarshi".
Prathnasa brahmarshi has 5 upagothras
"Upa prathnasa brahmarshi",
"Ruchidattha brahmarshi",
"Vaasthoshpathi brahmarshi",
"Kausala brahmarshi",
"Sanaabhava brahmarshi".
Suparanasa brahmarshi has 5 upagothras
"Upasuparnasa brahmarshi",
"Viswagna brahmarshi",
"Paritharshi brahmarshi",
"Surasena brahmarshi",
"Saankhyayana brahmarshi".