The Hindu baby naming ceremony, Hindu naming ritual-Namakaran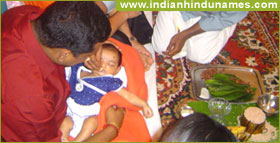 The traditional ceremony of naming the baby in the Hindu way is known as the namakaran ceremony. This is a social and legal necessity and an important duty of the parents. The naming process creates a bond between the child and the rest of the family, and therefore is a highly auspicious occasion. This ceremony is usually performed on the 12th day after birth thou it varies from region to region and custom to custom.
The mother is specially honored because she brought the child into the world. All the relatives and the guests who are present bless the child and offer gifts to the child and the parents. The blessings say that the child should grow into being a great person like his renowned forefathers. Though the infant, obviously, does not understand the meaning of the ceremony the parents do; and it helps them to understand the responsibility of bringing up and developing the child into a worthy human being. For others who are present it is a reassuring experience of understanding the dignity and value of human life!
The Namkaran puja is either held at home or in a temple where the priest offers prayers to all the gods and to the Agni, the elements, and the spirits of the forefathers, and entreats them to bless and protect the child. The child`s horoscope if written is also placed in front of the image of the deity for blessings. Then the baby is then placed in the father's (in some regions, maternal uncle's) lap to be blessed and then he whispers the chosen hindu name in the child's right ear, by using a betel leaf or its silver imprint, or a few leaves of kusa grass to direct the words in his ear. After the naming ritual is over, friends and relatives who have come for the ceremony, bless the child and touch some honey or sugar to its lips.
If the naming ceremony is not done on the 12th day, it can be done on the 101 day or on the first birthday. After the ceremony a feast is usually arranged to mark the holy occasion and vegetarian meals are prepared.
More hindu baby ceremonies and articles