Mundan or Hair Tonsuring ceremony in Tirupati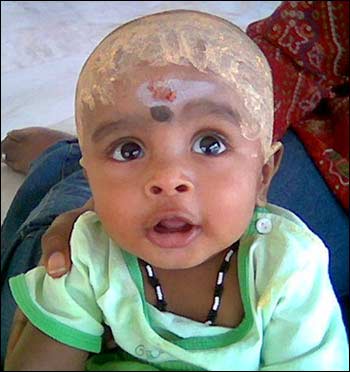 The Lord Venkateswara temple or Tirupati Tirumala Venkateswara Temple in Tirupati, is an important hindu pligrim centre. This temple is one among the 108 divya desams or holy places of Lord Vishnu. The temple is located in the hill town of Tirumala in the South Indian state Andhra Pradesh. Lord Venkateswara is also known by other names as Lord Balaji, Lord Srinivasa, Govinda etc.
The temple is famous amoung Hindus for the Mundan or Tonsuring ceremony. This ritual is done to appease Lord Venkateswara for the child's well being. Also, as per Vaishavite tradition, this ritual symbolizes wiping out one's ego.
The temple has a centralized system which has been put in place at Kalyana Katta, a huge building near the temple for this ritual. The barbers sit there in a line along side each other and carry on with the shaving in this complex. There is no fixed fee for and devotees can pay as per their discretion to the barbers after the shaving. Next to the Kalyana Katta, bathrooms have been provided to facilitate devotees to take a bath to clean themselves up after the hair cut. After the bath, devotees are supposed to visit the temple for the darshan of Lord Balaji ending the ritual.
Tirupati is well connected by road, rail and air with the major cities in India. Private and public road transport is available for climbing from Tirupati to Tirumala. Once devotees reach Tirupati, both paid and free accommodation are available in Tirupati and Tirumala.
Distance between Indian Metro cities and Tirupati

Delhi 2062 kms
Calcutta 2887 kms
Mumbai 1228 kms
Chennai 152 kms
Distance between major Indian cities and Tirupati

Bangalore 247 kms
Coimbatore 537 kms
Hyderabad 592 kms
Madurai 596 kms
Mangalore 594 kms
Mumbai 1228 kms
Mysore 386 kms
Pune 1065 kms
Salem 372 kms
Thiruvananthapuram 922 kms
Vishakhapatnam 791 kms
More hindu baby ceremonies and articles
Also check our section on baby horoscope - traits and characteristics.