Annaprasanam, Choroonu in Guruvayur Information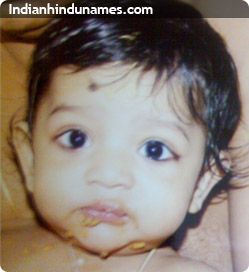 Annaprasanam or choroonu, the first rice giving ceremony of a child can be conducted before Lord Guruvayurappan and is auspicious. For many people, this is the first time, the kid enters a temple.
You will have to book for the choroonu ceremony by paying a nominal fee of Rs.10 at the temple vazhipadu counter. The ceremony is done during mornings and the kid and parents have to come prepared for the occasion. Men folks accompanying the kid has to be in dhoti or mundu and women has to be sari or salwar. The kid can also be dressed in small dhoti which are sold outside the temple for the occasion. The temple administration provides the items needed for the ceremony like cooked rice, payasam (sweet preparation of rice and jaggery or kheer) plantain leaf etc.
If you are traveling from far off places, it is better to reach the previous evening and stay in the many hotels/ lodges around the temple to avoid the morning rush. You cannot carry a camera inside the temple to shoot the occasion but there are temple photographers inside who will take photos for you and courier/ post the photos to your address by paying an advance fee. This is a reliable service.
How to reach Guruvayoor

By Road
Guruvayoor is 31 km from Trichur and just 8 kms away from Kunnamkulam where National highway passes through. Busses ply every 5 minutes from Thrissur to Guruvayur. Private bus operators and state government transport services operate directly from Guruvayur to major cities.
By Railways
Guruvayur has a railway station towards the east of the temple which is connected to the Madras-Mangalore main line at Thrissur. There is computerised ticket booking facility and tickets can be booked to any locations from here. Direct service to Guruvayur by trail is minimal. So if you are coming from Mangalore side, it is better to get down at the Kuttippuram station. If you are coming from Madras/Trivandrum side, you can get down at Thrissur. Regular bus services are available from these places to Guruvayur.
By Air
Kochi/ Cochin International airport (Nedumbassery) is 80 kms from Guruvayur and the Calicut airport is 100 kms away. All major national and international flights are operated from these airports.