Mundan or chadakarana ceremony, baby's first hair removal, hindu hair removal tradition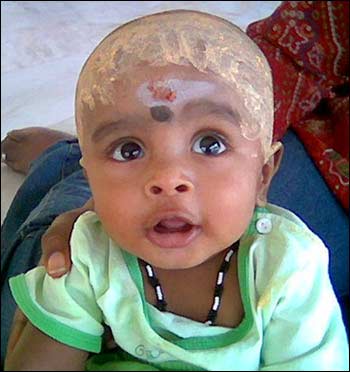 The next important ceremony after Annaprasana and Namakarana in a Hindu child's life is the Mundan or Chadakarana when the baby has his first hair cut. The Mundan ceremony can be done in the 1st year, 3rd year or 5th year of age but it is normally done before the completion of three years of age of the boy.
Please note that Mundan as a ceremony is prescribed only boy babies but today with the changing times, it has become a practice to have the ceremony done for girl child too.
A proper Mundan ceremony involves three rituals of about an hours duration – the boy's parents do a "Ganesh puja" (worship of the Hindu God Ganapati or Ganesh); a barber who shaves the child receives some honour; and a "Havan" (a purifying ritual with a fire ceremony) with devotional prayers known as the Ayushya Homa mantra and Arati concludes the ceremony. This is followed by a feast and the giving of presents which form the social aspect of the Mundan as a samskar.
Shaving the head is termed as "Ayushkarma" in Sanskrit, It means enhancing the longevity or the life span of the child. "Ayuh" in Ayurveda also means this). The child's hair at the time of birth is not strong and the mundan ceremony ensures that hair roots are strengthened and strong hair is formed. The shaved head received Vitamin D from from exposure to sun and this has its own medicinal benefits. Little hair is left at the back known as "Shikha", this is supposed to protect that part of the brain which helps in memory. The Shikha is also supposed to denote the place where, for a pious person, the soul leaves the body at the time of death.
In North India, the Mundan or Chadakarana ceremony is done usually at one of the Goddess Durga's temples in the hills. In South India people usually visit Lord Balaji's temple at Tirupati for Mundan or Lord Murugan's temple at Palani to conduct the ceremony. You can read more about Mundan ceremony in Tirupati.
More hindu baby ceremonies and articles
Also check our section on baby horoscope - traits and characteristics.
© 2019 Indian Hindu Names.com